Nebbiolo (Barolo) - Red Wine Making Kit (Light-Bodied - 7% PABV)
Customer Reviews
Write a Review
Ask a Question
Filter Reviews:
wine
kits
bottles
water
company
Four
times
ones
Nebbiolo
sugar
09/15/2020
Ron M.
United States
I recommend this product
Excellent website.
Easy website to navigate. Clear descriptions. Good product lineup. Fast delivery. Very satisfied with wine kit.
07/09/2020
Richard P.
United States
I recommend this product
Nebbiolo is easy to make, tasty, and beautiful deep purple color
It was very easy to make, of course, I've been practicing for 12 years at it.I took their well packed box of the concentrate, about 180 oz. and poured it into a gallon of berkey water with bentenite stirred in and topped it off with more water to get my 6 gallons. Measured with a hydrometer($14 or so) to see the final alchohol level, and add 2 cups of sugar if I want to raise the % one point, or more if want it 10% and it says 7% at beginning, I add 6 cups standard sugar. Stir well. In 10 days rack, in 20 days rack and stir 3min. four times that day adding one clarifier then. Next day add 2ed clarifier. 30-40 days rack and stir in the potasium sorbate and bottle. I end up with about 24 bottles, and store them downstairs for a few months, on their side, as I'm making extra lately. It tastes just a bit better in a few months,not much, as it is fine to drink after 30 days. Nebbiolo is very good, not too this or that, just a tasty wine me and my wife enjoy(we like 3 or 4 others offered here for variety), as it smells and tastes wonderful and is good for you. This company is truely for us winelovers.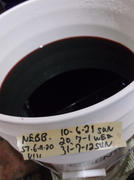 11/22/2019
Angela C.
United States
10/21/2019
Fred G.
United States
I recommend this product
Very Good Winer
I have made several wines now and have always turned out great. People that have tasted the wine remark on how good it is. I made the Nebbiolo with 5 gallons rather than 6 to make it a little bolder. Love this company!
10/09/2019
Jeff C.
United States